Writing optimized Meta titles and Meta description tags is the first and most important step towards making your website presence SEO friendly, improving traffic and increasing organic CTR (click through rates) on the SERPs (search engine result pages). Ironically though, it's an optimization effort that many site owners and SEO agencies overlook or neglect, leading to lost traffic and even worse, lost leads and revenue. Not good. If you don't take time to write these valuable, powerful little advertisements for your business, Google will simply pull the text of its choice from your page to serve as a meta description, often resulting in less than clickable results.

Writing good Meta is about writing for search and writing to increase your organic CTR on the search engines. If your Meta doesn't read well or isn't inviting and irresistibly clickable, you're most likely loosing potential leads and customers.
I recently did some work with a client who was frustrated with their growth and traffic, and the first thing I did was to rewrite the title and description for every single page on their site. Their existing Meta wasn't taking full advantage of the power Meta titles can deliver your business, nor were their meta descriptions. While the dramatic growth you see in the graph below doesn't necessarily happen with all meta title changes, well optimized titles can provide improved and more targeted traffic.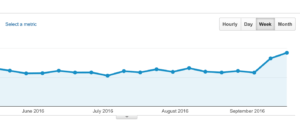 Their titles were either too short, too long, or at times nonexistent. Further, their titles had keyword redundancies, which ran the risk of key word stuffing and duplicate content. Above all, they were not chock-full of important keywords they wished to rank for.
So I researched their business, their competition and spent several days putting thought into every key word, every page and every description. By the time we implemented these changes and they had propagated onto the search engines, their traffic had risen and their leads had improved.
What Exactly are Meta Titles & Descriptions?
Every page on your site should have a meta title and description to optimize those pages for search, and you can usually see them displayed at the top of your web browser. They are not a title that actually exists visibly on your page, which is probably why many people ignore them. But rest assured, they do matter if you want to increase traffic and the right kind of traffic.
Think of meta titles and descriptions as little advertisements for each individual page on your site.
More important to building your brand and business, your site meta data is what search engines like Google display on the SERPs, so it's best to have titles optimized with important, competitive keywords, and descriptions with informative, friendly strategically placed actionable phrases like "join now!" or "browse our collection", etc. If your titles and descriptions are not written with care, the person searching is likely to pass you by for a site that does care – your competition.
How to write a Meta Title correctly.
Google now allows a page title to be up to 70 characters long, though it may at times allow it to go to 71. It's hard to predict where Google will truncate, so it's best to stay below 70 as much as possible. Google used to require a shorter character count for titles, but they recently added some length, which has helped many people fit in another key word or two.
The SERP simulator is a great tool for writing titles and descriptions. This allows you to see exactly what your title will look like on the search engines and helps you write to the proper length and optimize accordingly.
Here is an example of a well-written Meta title:
Ambient Scent Branding & Air Freshener Systems | Air Scent
Why is this a well-written title? It's within the 70 character allowed length, it's chock full of industry competitive keywords for the aroma branding and air freshening industry, and the most important keywords are placed towards the front of the title, with the company name towards the end, separated by a pipe.
A guide to writing proper industry leading Meta titles:
Study your Competition: First and foremost, do your research. Study your competition's Meta presence on the search engines. Study the keywords they're using and drop them all into a document for reference. You can also run a keyword check on any site with Mow's keyword checker or Google's to see what keywords they are ranking for. Once you've thoroughly studied your completion against your goals, start writing.
Homepage meta title: While all titles are important, your home page meta title is the single most important title, so think long and hard about what keywords you place here. Google weights this title more heavily, so that very first word is important.
Placement of keywords: Place the most important keywords you want to rank for at the beginning of the title, with the lesser, but just as important keywords, towards the end.
Company name: Many people include their company name in titles, but you can leave it out if you are keener on including further important keywords. Place your company name towards the end of the title, unless of course your company name has an important keyword in it.
Separating keywords: Separate important keywords and your company name with a pipe. A pipe looks like this |
Do not duplicate titles or descriptions!  This is a huge no-no with Google and you will be penalized for doing so. Every title and description should be uniquely written for each individual page. Do not duplicate.
Length: Keep it to 70 characters or less, and chock it full of the keywords relevant to your business.
Here are a few more examples of well-written titles:
Divorce Support Services & Women's Empowerment Community
Perfume & Fragrance Manufacturer | Scent Designer | Alpha Aromatics
I'll next get into how to write great, clickable Meta descriptions!